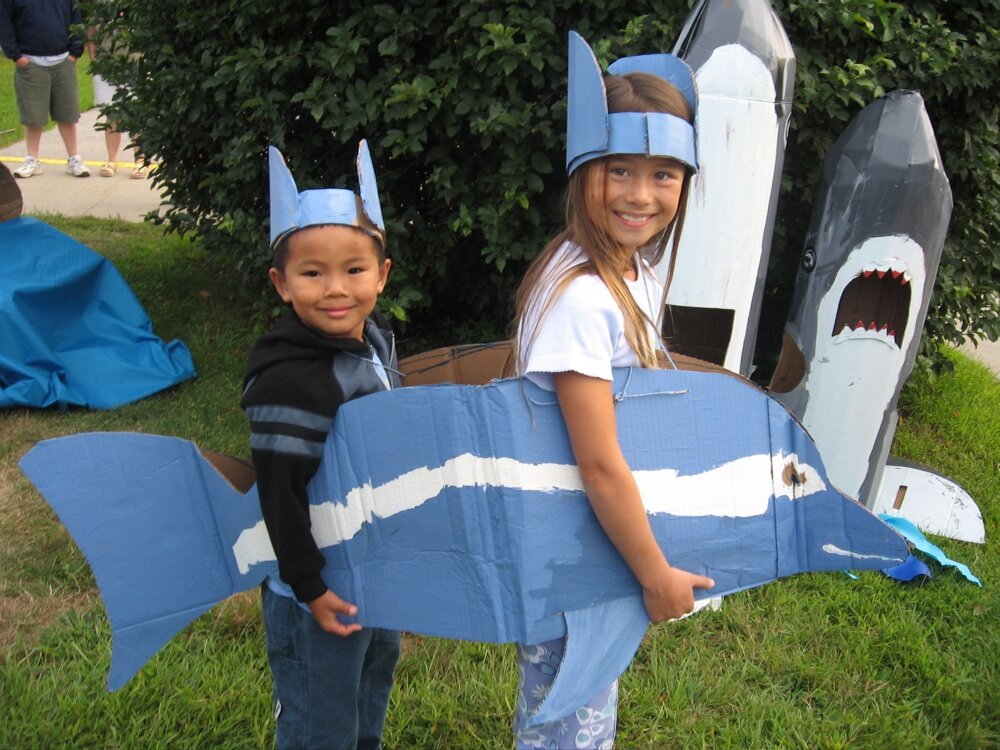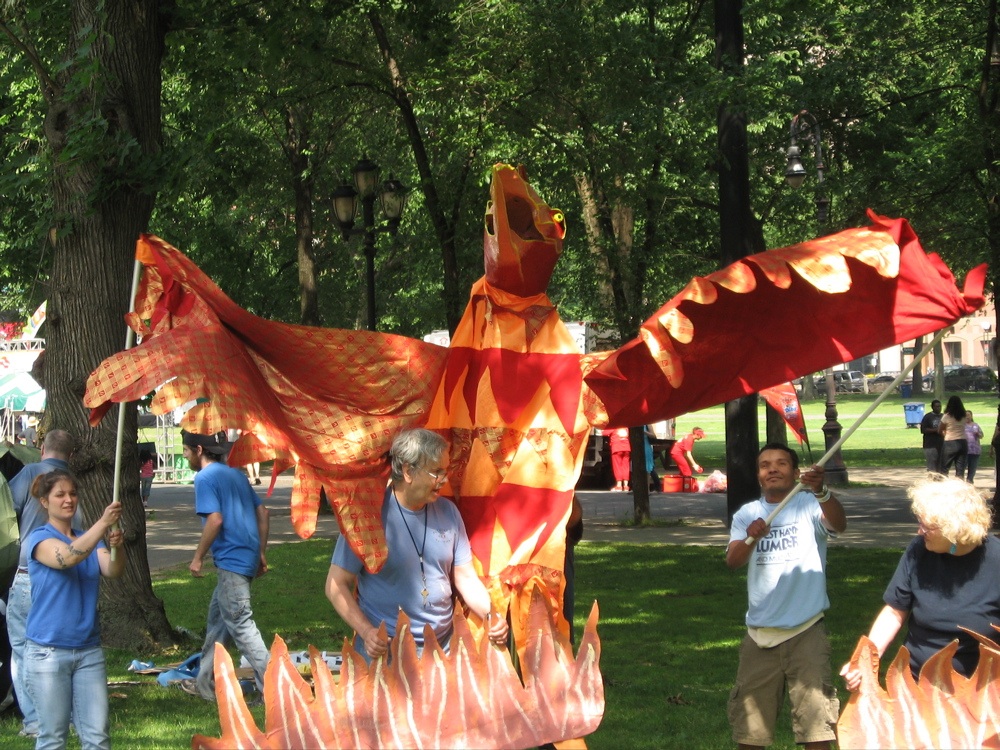 WE CAN BUILD ANYTHING!
W h a t d o y o u i m a g i n e ?
I teach workshops and engage in artist residencies with communities of all kinds. I prefer to work with groups over weeks or months if possible, but we can build cool stuff in a day if that's all the time you've got. I work with preschoolers to seniors and provide individual and small group instruction or can wrangle hundreds of humans at once.
I'm into partnering with teachers to integrate art into classroom curriculum, collaborating with scientists, and combining forces with dancers, musicians, and story-tellers of all kinds. I'm game to explore alternative currencies for justice-focused activist groups looking to amplify their messaging with visuals and/or performance. I've created programming for libraries and museums to augment public engagement with collections, facilitated the creation of cozy cabarets, and marshaled massive street spectacles.
PUBLIC SURVIVAL GEAR CONSTRUCTION
This workshop creates personalized wearables in response to the prompt:
"What do you need to survive/ thrive in public?" I work with participants to transform cardboard into survival gear, urban camouflage, shields, beast disguises, headwear, jewelry and other signifiers of the magical/ ordinary powers each of us needs to keep going…
PARADES & PAGEANTS
Parades and pageants are powerful public ways to share workshop creations and build or support connections between participants and the larger community. Parades require no rehearsal or official performance venue. They can welcome bystanders jump in, unite neighbors and take ideas and imaginings into the street! Pageants are a stationary way to celebrate visual spectacle through (mostly) non-text based narrative or themes. Both are fantastic ways to amplify community concerns, involve musicians and dancers, engage with neighborhood landmarks, occupy parks and public spaces, and celebrate what we can build together.
SUITCASE, CRANKIE, CONTESTORIA, MASK, and SHADOW
I facilitate workshops in all the above, toward one group-created show or a cabarets of shorter acts. Game to support efforts to document and memorialize real life through these modes or dig into fictional imaginings, abstracted visioning, and (as of yet!) untold stories of all kinds. No performance experience required.
CORRUGATED COMMUNITY
We can build castles, huts, mazes, tunnels, you name it. These photos are from a Corrugated Community project I partnered on with New Urban Arts. (Funded by The Providence Department of Art, Culture and Tourism.) With 7 teenagers and an assistant, I spent 2 weeks traveling to city parks, building cardboard structures for kids to play in and draw on. We hosted a series of performances and workshops in our cardboard town square each afternoon.
BEASTYATAS
The history of pinata-type art making can be traced to regions all over the world. I take inspiration from the possibilities those other cultures have birthed and interpret the form through my own lens as BEASTYATAS. I build Beastyatas on commission and lead workshops on building them. We can smash to celebrate and/or we can identify fears, injustices, or oppressive forces we want to destroy to inform our creations, and then we figure out what bursts forth from inside. Can culminate in costumed, performative bashing or preserved intact for a future bash…

Be in touch if you're interested in working together!
Thanks to all the participants and documentarians of these events — including New Urban Arts, PROP Peer Leader, Manchester Craftsmen's Guild, Geoff Griffin, Jori Ketten, Jonah M. David, and many others! Please reach out if you took any of these photos and aren't yet credited.